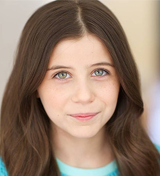 Congrats to alum Noelle Hogan (Fun Home), who has joined the cast of The Public Theater's gala production of Runaways!
Congrats to alum Mia Sinclair Jenness (Matilda), who will guest star on "Raven's Home"! Check out a picture backstage below!
Congrats to alum Mia Grace Davila (The Sound of Music), who has booked a commercial! More details to be announced, and check out a picture by her trailer below!
Vincent Molden and Grier Burke (School of Rock) chatted with the Chicago Tribune! Check out the article at ChicagoTribune.com!
Lucy Capri and Madeline Bokor (Waitress Tampa) spoke with TBO.com!
Chek out these pictures and videos from the kids of School of Rock, Finding Neverland, Waitress, and Love Never Dies!