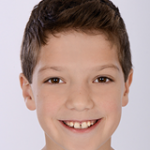 Rhyees Stump is returning to The King and I!
The "We Have A Voice" benefit concert, on October 15th, will feature kids from Billy Elliot, The Sound of Music, and more! Get more info below!
Congrats to alum Riley O'Donnell (Matilda), who has booked a new project! Check out a picture of her by her trailer below!
And check out these pictures and videos from the kids of Fun Home, The King and I, Love Never Dies, Motown, How the Grinch Stole Christmas, The Sound of Music, On Your Feet!, and School of Rock!