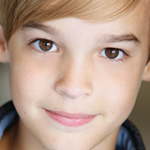 Congrats to Mitchell Wray (Finding Neverland), who made his Peter debut recently!
Collin Jeffery (Kinky Boots) was featured in the Cape Gazette! Check it out HERE.
Jordan Cole (Finding Neverland) was featured in the Eastchester Daily Voice! Check it out HERE.
KOT's Lindsay was at The King and I in Los Angeles yesterday! Check out pictures with the cast below!
Watch Alessandra Baldacchino (Fun Home) sing "Ring of Keys" on Twin Cities Live HERE or below!
And check out these pictures from the kids of Kinky Boots, A Christmas Story, Finding Neverland, Matilda, and The King and I!