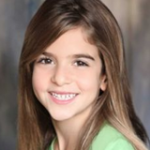 Alum Ava Della Pietra (White Christmas, Les Miserables) sang the National Anthem at Madison Square Garden! Watch below!
Trey Middleton and the cast of Elf are featured on Playbill.com in a photo shoot on the Empire State Building! Check it out HERE!
And check out these pictures and videos from the kids of How the Grinch Stole Christmas, White Christmas, Love Never Dies, Love Never Dies, A Christmas Story, On Your Feet, The King and I, The Bodyguard, and School of Rock!