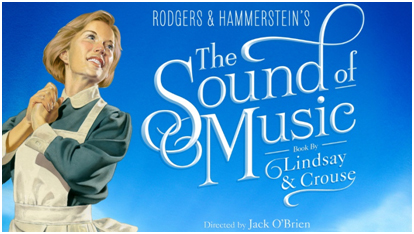 www
Bios | Schedule | Reviews
James Bernard

JAMES BERNARD (Kurt) 11 years old, from New York, NY, is thrilled to be a part of the National Tour of The Sound of Music (Kurt Von Trapp). Credits include: Queens Theatre production of To Kill a Mockingbird (Dill) and the Off-Broadway production of And a Child Shall Lead (Eric). He has starred in local children's productions of Shrek, Music Man, Peter Pan and Aladdin. He lives in Manhattan with his family and loves to act, sing, write songs and play the drums. He thanks his super supportive parents, brother Daniel, Nana/Grandpa Harry, Barry Kolker, Mitch Raftery and Cielito Pareja.

Taylor Coleman

TAYLOR COLEMAN (Marta, u/s Brigitta) is thrilled to be making her National tour debut! Theater: Dr. Seuss' How The Grinch Stole Christmas (Cindy Lou, three seasons, Betty Lou), Peter Pan (Jane), Shrek (Young Fiona), The Music Man (Gracie Shinn) and Annie Get Your Gun (Minnie Oakley). These are a few of her favorite things: competitive gymnastics, piano, violin, and cookies. Thank you to Coast to Coast Talent, Primary Wave, Telsey and Co, The Old Globe, dad, mom, sisters Sam and Sadie and her two puppies Newman and Piper back in San Diego. @tcoleman5678

Stephanie DiFiore

STEPHANIE DIFIORE (Louisa) is thrilled to be making her professional debut in this iconic musical! Favorite performances: The Wizard of Oz (Dorothy), Annie (Annie), Shrek (Young Fiona). Sincere thanks to Jamie Pillet, Abrams Artists, Dani Roth, Random Farms, Janine Molinari, Armonk Dance, Denise Simon and Telsey + Co. all of whom believed in her and guided her to this moment. Much love to Mom, Dad, Camryn, Chris and her family and friends back home in NY who never missed a performance and are her biggest fans!
www.stephaniedifiore.com

Zoe Glick

ZOE GLICK (u/s Marta, u/s Gretl) is honored to join the National Tour of the Sound of Music. NYC: Madeline's Christmas (Madeline), Happily Ever After. Broadway Youth Ensemble, "I Have a Voice" (Broadway Records), Broadway Artists Alliance. Special thanks to David Madore, Jamie Jordan, Laura Luc, Naomi Kolstein (Bohemia Group), Michelle Thompson (Avalon/BMG), Alex Hartman, Telsey+Co, the SOM Team and all my friends. Love to my family.

Anika Lore Hatch

ANIKA LORE HATCH (Gretl) 6 year old trilingual Arizona native, is overjoyed to be a part of this National Tour of her favorite musical! She previously played Gretl at CDO High School. Anika would like to thank Robert Canon, CDO SOM friends, Rachel Hoffman/Telsey & Co, Jack O'Brien, and the SOM team. Her parents, brother Torsten and extended family and friends are a few of her "favorite things."

Dakota Riley Quackenbush

DAKOTA RILEY QUACKENBUSH (Brigitta) is excited to make her National Tour Debut as Brigitta in The Sound of Music. A 5th grader from East Hampton, New York, Dakota's recent credits include performances at the Bay Street Theater; The Scarlet Letter (Pearl), Grey Gardens (Lee Bouvier), Guild Hall-Our Fabulous Variety Show; Neverlanded (Jane), Tap An Evening Of Rhythm (Shirley Temple), A Christmas Spectacular (Tina Crachit). JMMES; Annie (Annie), Hamptons International Film Festival; European Zero (Halla),. Thank You to The SOM team, Telsey & Co., Anita Boyer & Kasia Klimiuk of OFVS, Lucy Caracappa and Devin Ilaw. XOXO Mom, Dad and Sage for helping me follow my dream! I love you past the stars and beyond!

Carter Sindelar

CARTER SINDELAR (u/s Friedrich, u/s Kurt) is excited to make his National Tour debut with The Sound of Music! Regional theater: Cleveland Playhouse, A Christmas Story (Ralphie); The Cleveland Opera, Amahl, and The Night Visitors (Amahl). Community Theater: Oliver! (Oliver), Really Rosie (Johnny). Special thanks to Telsey + Co., the SOM team, Mom, Dad, Sophia, Graham, family and friends!

Elliot Weaver

ELLIOT WEAVER (Friedrich) is thrilled to be making his National Tour debut! Regional credits: Peter Pan (John), Ragtime (Little Boy), Big Fish (Young Will), The Music Man (Winthrop), The Grinch Who Stole Christmas (Danny, Boo & Ensemble). Special thanks to SOM Team, Jack O'Brien, Telsey + Co., Nancy Carson, The Old Globe, Moonlight Stage Productions, San Diego Musical Theater. Much love to Mom, Dad, Cole, Baylee, Ashton, extended family and friends for their support to pursue my dreams! www.elliotweaver.me
Review Quotes
Washington Post – 6/16/17
"The kids are the soul of the show, which is perhaps the ultimate family musical. (For the record, the cute brood is played by Paige Silvester, Elliot Weaver, Stephanie DiFiore, James Bernard, Dakota Riley Quackenbush, Taylor Coleman and Anika Lore Hatch…)…the number makes you grin: the energy cycles up smoothly, almost naturally, and the singing is lovely."
The Star – 6/07/17
"The ensemble numbers are all sublimely well executed, especially "So Long, Farewell" by the von Trapp kids. From Liesl to little Gretl, they are seriously fun to watch, especially Dakota Riley Quackenbush as the mischievous Brigitta."
On Stage Blog – 3/9/17
"The von Trapp children were played well by Elliot Weaver (Friedrich), Stephanie Di Fiore (Louisa), James Bernard (Kurt), Dakota Riley Quackenbush (Brigitta), Taylor Coleman (Marta) and Anika Lore Hatch (Gretl). These young performers all gave polished performances without losing the childlike quality that made them more authentic."
Courant – 3/8/17
"…But "The Sound of Music" is also a vehicle for fresh faces — especially those seven adorable von Trapp children…"
Broadway World Nashville – 2/15/17
"The Von Trapp children are to be equally celebrated, with each young actor bringing to light their full talent and making the unique qualities of their characters come to life, making for perfect casting….Dakota Riley Quackenbush offers up a sassy Brigitta, and proves to be a promising young vocalist and actress, whether singing with her fellow siblings or boldly informing Maria that she and her father are clearly in love."
Nashville Parent – 2/15/17
"Each of the children lend unique identities to their characters making them real and relatable. The youth cast give the show much charm and whimsy."
Newton Daily News – 2/10/17
"The show depended on its young cast as well bringing the seven von Trapp children to life. Maltby does so well with the children. You can tell they have worked together to get everything to flow so well every night. It was wonderful to see such a fine group of young actors on the stage. They were on point the whole time.
Six-year-old Anika was a delight to watch on stage."
Faith, Family, and Technology – 2/8/17
"Six year old Anika Lore Hatch as Gretl von Trapp was also fun to watch. Seeing someone so young and talented was pretty cool. She didn't have many lines or solos… but she nailed the ones she did have."
The Gazette – 2/1/17
"The fun truly began when Maria and the audience met the von Trapp children — Paige Silvester as Liesl, Roy Gantz as Friedrich, Ashley Brooke as Louisa, Austin Levine as Kurt, Iris Davies as Brigitta, Kyla Carter as Marta and Anika Lore Hatch as Gretl. They became the darlings of the stage.
They exuded a familial camaraderie and had beautiful harmony as they sang "Do-Re-Mi." Their exuberant rendition of "The Lonely Goatherd" was truly a crowd favorite."
The Daily Nonpareil – 1/26/17
"The Von Trapp youngsters were charming, witty and adorable. The realistic way they both cuddled and bickered with each other made it easy to believe they really had spent their entire lives together. Goosebumps abounded every time the children's voices filled the stage…"
Courier Journal – 1/18/17
"In this production, the charm of Maltby's Maria is matched by that of the chorus of von Trapp children (Emily Trumble, Roy Gantz, Ashley Brooke, Austin Levine, Iris Davies, Kyla Carter and Anika Lore Hatch) who add power to the show with their voices."
Telegram.com – 12/29/16
"All the supporting cast gave strong performances, but most engaging from the moment they enter are the seven von Trapp children. There is a wonderful chemistry from the seven young actors which enhances their relationships with both Maria and their father, the Captain."
Tucson Weekly – 11/30/16
"You can't have a Sound of Music without those cherubic children injecting youthful energy into the proceedings. Here we find a well-behaved and talented group including Paige Sylvester (Liesl); Ashley Brook (Louisa); Kyla Carter (Marta); Iris Davies (Brigitta); Roy Gantz (Friedrich); Austin Levine (Kurt); and Arizona native Anika Lore Hatch as Gretl. The tour must be an excellent kid wrangler, because although so often children tend to steal the show, this group is perfectly integrated."
San Diego Gay & Lesbian News – 11/18/16
"The kids are terrific…Gretl (Anika Lore Hatch) is adorable. But that's not to slight the others – Roy Gantz, Ashley Brooke, Austin Levine, Iris Davies and Kyla Carter – who also pull their weight."
San Diego Union Tribune – 11/17/16
"And those hard-working von Trapp kids all deserve their own bouquets of edelweiss…Iris Davies as the ever-perceptive Brigitta were particular standouts on opening night.)"
Mercury News – 11/10/16
"All of the children are uniformly charming here but little Genny Gagnon is a scene stealer as the tiniest von Trapp, Gretl."
Broadway World Phoenix – 10/24/16
"The Von Trapp children are incredibly talented. In particular, Iris Davies as the astute Brigitta possesses hilarious spunk…"
Red Dirt Report – 10/12/16
"All of the actors playing the Trapp children give strong performances, both singing and acting."
News Record – 09/28/16
With the exception of Liesl, real children play all of the von Trapp kids — the youngest of whom is six. There are eight children touring with this show and half are making their national tour debuts. Seeing real children in child-specific roles really helps bring the production that much closer to reality, making it easier for the audience to suspend their disbelief. Not to mention, they all delivered flawless singing and acting performances and were generally adorable.
Talkin' Broadway – 09/29/16
"…Iris Davies (a forthright and insightful Brigitta) and Paige Silvester (who conveys much with non-verbals as Liesl) are standouts among the seven very talented actors who play the von Trapp children."
New Orleans Advocate – 09/23/16
Another bright spot in the production is the Von Trapp children — or, more precisely, the performers who play them. The seven kids are at the heart of the show…In this production, the children are more than a plot device. Gretl, played by 6-year-old Anika Lore Hatch, gets the requisite oohs and aahs for being adorable, but some of the older siblings — particularly the straight-talking Brigitta (Iris Davies) and the famously 16-going-on-17 Liesl (Paige Silvester) — emerge as characters central to the narrative…Additionally, all of the children are fine performers, nailing their vocal parts and deftly navigating the complex choreography and blocking required for moving seven children around the stage.
Broadway World National Tours – 09/22/16
The von Trapp children are worth the ticket price alone. The magnificent seven sing and act their hearts out, causing many an audience member to give audible "awws" throughout the performance. There is a vast amount of fresh, fast-paced humor in the scenes with these children, and Maria; whether it's Maria sneaking about in the background of "Sixteen Going on Seventeen," or the especially cute staging of "Do-Re-Mi," or Iris Davies' Brigitta laying down harsh truths for the adults in her life.
NOLA.com – 09/22/16
The aww factor is off the charts with the von Trapp children, who are well cast. Actually sounding like children and not pint-sized opera stars, they sing especially well. Their performance of "Do-Re-Mi" with Maria may be the best argument possible for the importance of arts education.
Review Journal – 08/03/16
This "Sound of Music" boasts a crop of adorable kids (acting more spontaneously kidlike than their movie counterparts) sharing such delightful numbers as "Do-Re-Mi" and "The Lonely Goatherd" with their lovable new governess.
Broadway World Los Angeles – 07/27/16
This "Sound of Music" boasts a crop of adorable kids (acting more spontaneously kidlike than their movie counterparts) sharing such delightful numbers as "Do-Re-Mi" and "The Lonely Goatherd" with their lovable new governess.
OC Register – 07/21/16
Von Trapp's efforts to make up for lost time with his kids is heartwarming, and O'Brien's seven young actors live up to their roles, adorable and funny at the right moments.
Stage Scene LA – 07/20/16
Director Jack O'Brien has cast a septet of talented Von Trapp children…without a trace of child actor "cuteness."
Daily Herald – 6/10/16
O'Brien has crucially directed the von Trapp children to not be so self-consciously adorable, so they come off more genuine than expected. The truth-telling Brigitta of Iris Davies is fun, as is the Kurt of Austin Levine, who subtly flirts with his new governess.
Chicago Sun Times – 6/9/16
Among those kids, Iris Davies is the charmer as Brigitta, the winningly perceptive 10-year-old.
Chicago Theatre Review – 6/9/16
The seven von Trapp children are all wonderfully cast….Jeremy Michael Lanuti displays an accomplished soprano voice as Frederich and Austin Levine makes Kurt a lovable, realistic little boy. Ashley Brooke's bookish Louisa, Iris Davies' candid, unabashed Brigitta, Kyla Carter's charming little Marta and sound. Audrey Bennett's sweet baby Gretl round out this artistic family of juvenile stars. Whether marching around the house singing and signing the infectious "Do Re Mi" or bouncing on Maria's bed while belting out "The Lonely Goatherd" to mask a loud, frightening thunderstorm, these children are the obvious stars of this production.
Stage and Cinema – 6/9/16
…while the Von Trapp children are as patently irresistible as ever. Whatever dancing you get here is entirely believable—no show biz showing off, though the children (who here come in alternating sets of adorability) can't conceal their own irrepressible joy at just doing what comes naturally.
Carolina Curtain Call – 4/21/16
And the von Trapp children are an enchanting clan and another musical entity onto itself with some of the finest vocal harmonies of the evening…
Greenville Online – 4/21/16
The children, throughout the show, are fittingly adorable. They're exceptional singers, too…
Greenville Times – 4/14/16
Some things remain the same in O'Brien's "Sound of Music": the von Trapp children are still adorable…
Emtertainment Monthly – 4/9/16
As for Captain von Trapp's children, each of them brought a new element to the stage.
Post Gazette – 3/23/16
The other children, like their nanny, leaned more toward naturalistic than precocious, and it was a wonder that even little Gretl remained fresh and lively beginning to end.
Phindie – 3/20/16
All of the children in this touring production have merit.
Hollywood The Write Way – 3/16/16
All of the cast playing the von Trapp children were wonderful…
Providence Journal – 3/9/16
And don't forget the gaggle of von Trapp kids, who were delightful, and first-rate singers.
MyAJC – 3/2/16
…features one of the cutest children's ensembles you'll ever see.
Austin 360 – 2/24/16
…the various von Trapp children, all of whom provide strong, frequently adorable, performances.
Dispatch – 1/26/16
First among the many other favorite things that can be found in this enchanting tour are the seven Von Trapp children.
News Press – 1/13/16
The rest of the cast is almost as great, including the seven kids (who never get too treacly-cute and come off as real children)…
Examiner – 1/9/16
And the children…are a delight.
Mix 105.1 – 1/6/16
And speaking of the children, they are a large part of what makes a successful production of The Sound of Music truly come together, and these kids are all great.
Orlando Sentinel – 1/6/16
the von Trapp brood. Those seven actors, besides having the requisite cute factor, are top-notch.
D Magazine – 11/10/15
The actors and actresses portraying the von Trapp children are all quite talented, playing their roles with all the poise of stage veterans. The chemistry between them and Anderson feels immediately natural, warm, and comforting, like a real family. The children are a playful, cohesive unit in all the musical numbers, especially "The Lonely Goatherd," and seemed to delight the assembled audience on press night.
Dallas News – 11/06/15
…the appealing cast of kids in natural rather than self-consciously cute performances
Theater Jones – 11/06/15
All the children are terrific actors and singers…
Daily News – 10/02/15
As for the children, they manage a genuine quality while singing and dancing like old pros.
Liberty Voice – 10/02/15
And the littler ones are adorable and show different personalities for each character as they skillfully pull off their well-rehearsed scenes and songs.
Hollywood Reporter – 10/01/15
The children are as cute and on-key as they ought to be…
Tour Schedule
Northern Alberta Jubilee Auditorium

Southern Alberta Jubilee Theater

Moran Theatre Times Union Center

Tulsa Performing Arts Center