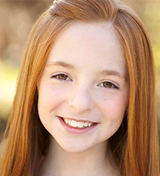 Congratulations to Delilah Rose Pellow (How the Grinch Stole Christmas), who officially joins Anastasia tonight, reprising her Broadway role! Break a leg, Delilah!
Alumni Katie Grgecic (The Sound of Music) and Olivia Fanders (Shrek) will guest star on Syfy's "Happy" tomorrow night at 10pm!
Dahlia "Dovie" Allen and Vivienne Simmons sat down with "Good Day NWA" to chat about playing Lulu while Waitress is in Fayetteville, AR! Check it out on NWAHomepage.com.
And here are pictures and videos from the kids of Anastasia, Finding Neverland, Les Miserables, Miss Saigon, The Lion King, and The King and I!