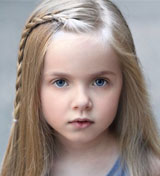 Alum Jeremy Lanuti (The Sound of Music) is now appearing as Young Danny Rand on Marvel's "Iron Fist," now streaming on Netflix!
Alum Kolette Tetlow (Once) will appear on season 2 of "The Deuce"! Check out pictures on set below!
Cate Elefante (Les Miserables) is going on as Young Cosette on October 5th at 2pm in New Haven!
Alum Lucy Capri (Waitress Tampa) is now appearing in a few commercials for Service Credit Union in the New England area! Watch a clip below!
Watch videos of alumni Wyatt Cirbus (Finding Neverland) and Hudson Loverro (Kinky Boots) performing at "Now & Then" at 54 Below below!
And check out these pictures from the kids of School of Rock, Finding Neverland, Kinky Boots, Les Miserables, and Anastasia!