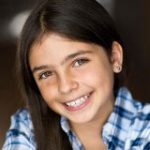 Hallmark's "Christmas Next Door," featuring alum Jenna Weir (Matilda), will premiere on December 16th at 8/7c! Check out a picture of Jenna in front of the Hallmark windows in New York City below!
"All Saints," with alum Myles Moore (A Christmas Story), will be released digitally on December 12th! Check out a clip below!
Our founder Lindsay met up with alum Joshua Turchin (A Christmas Story) today, who's in Los Angeles this weekend to perform material from Trevor: The Musical at Trevor Live tomorrow night! Check out a picture below!
Check out these pictures and videos from the kids of A Christmas Story, School of Rock, and Fun Home!