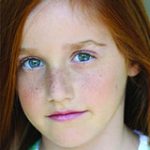 Congrats to Taylor Coleman, who went on as Brigitta in The Sound of Music last weekend!
KOT's founder Lindsay saw alum Lilly Mae Stewart (Annie) in "Middleschoolandia" in Hollywood yesterday! There are two more chances to see her on June 17th and 24th! Get more info at Middleschoolandia.com and check out a picture of them together below!
And check out these pictures and videos from the kids of Pippin, Matilda, Fun Home, Motown, The Sound of Music, and Finding Neverland!