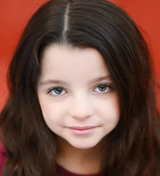 Alum Julian Lerner (Les Miserables) has joined the cast of PBS Kids' new animated series "Alma's Way," playing Lucas! Get more info HERE.
Chance Smith (The Lion King) guest starred on a recent episode of ABC's "For Life"! Look behind the scenes below.
Tour alum Sophie Knapp (Once, Les Miserables) will take part in a reading of The Right Way during the Jocunda Festival in January! Get more info about the event HERE.
Kids from Les Miserables, Anastasia, and more took part in this music video for Unicorn Jazz, just in time for the holidays!
Look for alum Lucy Capri (Waitress) and her sister Lileina in a commercial for Ashley HomeStore, which you can watch below!
And watch Brody Bett (Charlie and the Chocolate Factory) and Arwen Monzon-Sanders (Frozen) sing "Silent Night" as part of "Christmas with Arwen"!