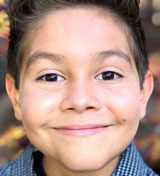 "1, 2, 3, All Eyes On Me," a new short film with tour alum Armand Munoz (A Christmas Story), will arrive on HBO Max in April 2021!
Tour alumni Carlos Carreras (On Your Feet) and Emily Isabel Strugatsky (The Sound of Music) appeared in a Saturday Night Live sketch over the weekend! Watch it below.
Alum Emma Berardelli (White Christmas) is this week's guest on The Kid Broadway Podcast! Listen to the episode below.
Enjoy the newest episode of "Kyla's Korner," with tour alum Kyla Carter (White Christmas, The Sound of Music), below!
And check out these videos from the kids of Frozen, Les Miserables, and Charlie and the Chocolate Factory!