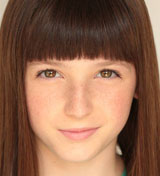 Today, tour alumni Bella Fraker (School of Rock, How the Grinch Stole Christmas), Jacob Moran (School of Rock), and Celina Smith (The Lion King) performed during "Tower of Talent," which aired on NBC Atlanta stations!
Kids from Les Miserables, On Your Feet, and more will perform during Broadway Star Project's holiday concert, live-streaming on December 13th! Buy tickets for The Broadway Star Project Family's Holiday Special HERE.
Congrats to alum Emily Jewel Hoder (Les Miserables), who has booked a film! More details to come.
Be on the lookout for alum Lily Jane (How the Grinch Stole Christmas) modeling for Snapperrock Swimwear! Check out the ad below.
Listen to the newest episode of the "Take A Bow" podcast below!
Watch Arwen Monzon-Sanders (Frozen) sing "All I Want For Christmas Is You" with Winter Donnelly (Frozen Broadway)!
And watch alum Regan Ciccarelli (Waitress) sing during Rising Talent Magazine's virtual concert below!