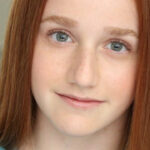 Alum Taylor Coleman (The Sound of Music) recently recorded a radio version of "How the Grinch Stole Christmas"! The performance can be heard on the radio in San Diego on KPBS 89.5 FM and can be streamed live on the KPBS website, on the KPBS app, and on smart speakers on Thursday, November 26 (Thanksgiving Day) at 12:00 noon; Saturday, December 5 at 12:00 noon; Sunday, December 20 at 12:00 noon; and Thursday, December 24 (Christmas Eve) at 6:00 p.m. All times are Pacific Standard Time (PT).
Watch alum Audrey Bennett (The Sound of Music) perform during Rising Talent Magazine's recent virtual concert below!
And check out these pictures from the kids of Frozen and Charlie and the Chocolate Factory!