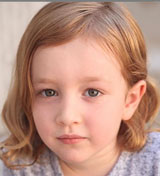 Azra Kearns (Waitress) and Patrick Scott McDermott (Les Miserables) are taking part in a Young Artists cabaret to benefit BC/EFA on September 12th at 6pm! To donate and get access to the live performance, go to their fundraising page.
Check out Kid Broadway Podcast, a new podcast with episodes featuring tour alumni Emily Jewel Hoder (Les Miserables), Mackenzie Mercer (Les Miserables, How the Grinch Stole Christmas), Christian Harmston (Love Never Dies), and Casey Lyons (Love Never Dies), on Facebook and Instagram!
Alyssa Kim (Frozen), Anthony Gianni Cipolla (A Bronx Tale), and more took part in a virtual performance of "One of the Great Ones" in honor of Nick Cordero. Watch the full video below.
And check out a video of Natalie Adele Schroeder (Harry Potter and the Cursed Child) singing "idk you yet" by Alexander 23 below!