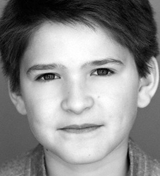 Tour alumni Gaten Matarazzo (Les Miserables) and Presley Ryan (How the Grinch Stole Christmas) will take part in Andrew Barth Feldman's "VIRTUAL CELEBRATION!" on May 31st! Get more info about the event HERE.
The second episode of "Take a Bow," hosted by alum Eli Tokash (Finding Neverland), is out now! You can listen to the podcast HERE, or anywhere podcasts are found!
Congrats to alum Cate Elefante (Les Miserables), who recently booked a voiceover gig!
Waitress has announced dates in Columbia, South Carolina, Wausau, Wisconsin, and St. Paul, Minnesota! Check out our Waitress page for more information.
Check out the voiceover Parker Weathersbee (Les Miserables) did for Saturday Morning TV below!
And check out these pictures from the kids of Waitress, Frozen, and Les Miserables!