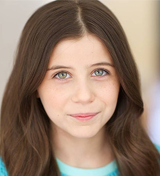 This week, Elena Fountaine and Charlotte Brewer share the role of Lulu in Waitress in Norfolk, Virginia! You have through February 2nd to see them at the Chrysler Hall!
Congratulations to Kalendra Rhodes, who will join the national tour of The Lion King!
Alum Mia Sinclair Jenness (Les Miserables, Matilda) appears in the upcoming movie 10 Things We Should Do Before We Break Up, arriving in select theaters and on-demand on February 21st!
And check out these pictures and video from the kids of Frozen, Waitress, Les Miserables, and Finding Neverland!