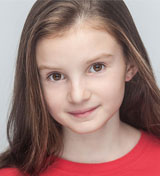 Alum Alyssa Marvin (School of Rock) will take part in an online event called "Creativity in the Time of COVID" on May 16th! You can watch the livestream on Temple Beth El of Boca Raton's Facebook page at 7pm.
Alum Addison Valentino (Anastasia) took part in Broadway Youth Ensemble's cabaret! You can watch the full video below.
Today, alum Makayla Joy Connolly (White Christmas) performed a live concert on (YOUNG)'s Instagram account (@youngbroadwayseries)! Make sure to go check it out.
Disney Family Singalong, with alumni like Walter Russell III (The Lion King), is now streaming on Hulu and Disney+! Make sure to go watch it.
Check out Broadway Babysitters' class schedule for this week below!
Alum Joshua Turchin (A Christmas Story) took part in a virtual cover of "Fight Song"! Watch the video below.
And check out these pictures and video from the kids of Frozen, Les Miserables, and Charlie and the Chocolate Factory!