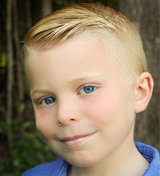 Alum Harper Allegra (Waitress Atlanta) has booked a music video for Funniflix!
Alum Parker Dzuba (Les Miserables) has been added to the lineup for A Time to Shine's Youth from the Broadway Community, happening this Saturday at 7pm in New York City!
Kids from Waitress, Les Miserables, and more will take part in the next (YOUNG) this Sunday at 7pm at Green Room 42! Get tickets HERE!
And check out these pictures from the kids of Miss Saigon, Les Miserables, and The Lion King!