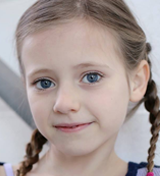 "Team Kaylie," a new Netflix sitcom with alum Kai Calhoun (Motown), is premiering on Netflix on September 23rd!
Alum Audrey Bennett (The Sound of Music) has been cast in a TV series! More details to come.
Alum Lucy Capri (Waitress Tampa) has booked the upcoming National Geographic series "The Right Stuff"! Get more info about the series below!
Check out these pictures and videos from the kids of The Lion King, Miss Saigon, Dear Evan Hansen, and Anastasia!