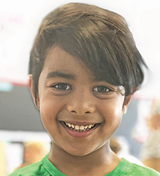 Ryder Khatiwala (Miss Saigon) will take over the Kids on Tour Instagram account tomorrow! Make sure to tune in!
KOT's Lindsay went back to see Les Miserables for the third time to watch Addison Takefman go on as Little Cosette!
And check out these pictures from the kids of Miss Saigon, Finding Neverland, Anastasia, Dear Evan Hansen, School of Rock, and The Sound of Music, and Les Miserables!