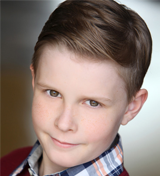 Alum Lucas Marinetto (A Christmas Story) will appear on "World of Dance" tonight at 10pm on NBC! Check out a picture below!
Alum Presley Ryan (How the Grinch Stole Christmas) will guest star in season 6 of "Orange is the New Black"! Check out a picture on set below!
Alum Harrison Leahy (Beauty and the Beast) filmed a segment for Bravo! Check it out below!
Chase Phillips (Motown) stopped by Fox 2 in Detroit! Check out the video below!
Julian Emile Lerner (Les Miserables) appeared on "Last Week Tonight with John Oliver" in a sketch! Watch video below!
Ella Grace Helton (Waitress Orlando) is appearing in ads for Disney World, and spotted herself on screen! Watch below!
And check out these pictures from the kids of On Your Feet, School of Rock, The King and I, Love Never Dies, and Les Miserables!