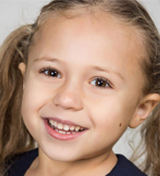 Tonight, alum Sammy Dell (School of Rock) appeared on CBS's "Bull" at 10pm!
Congrats to alumni Riley Madison Fuller (Waitress) and Jay Hendrix (A Christmas Story), who have both booked commercials! More details to come.
Watch alum Eva Carreon (Waitress) perform during the most recent Rising Talent Magazine concert below!
And listen to the latest episode of "Kyla's Korner" below!