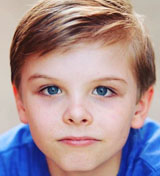 Tomorrow, you can stream "New Sounds of the Season," a holiday event from NextStage, with tour kids Brody Bett (Charlie and the Chocolate Factory), Alyssa Marvin (School of Rock), and Nicholas Reed (Finding Neverland), running December 24th through the 31st! Buy tickets HERE.
Tomorrow, the "PAWcast," hosted by alum Walter Russell III (The Lion King), will have a special holiday episode at 6pm EST/3pm PST on Instagram Live! Make sure to tune in.
Look for alum Ty Dunn (Miss Saigon) in an ad for Kohl's, and check it out below!
And watch the latest "Christmas with Arwen," featuring Arwen Monzon-Sanders (Frozen) and Mariama Diop (Once on This Island)!