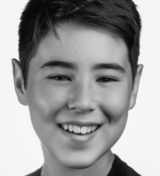 Congrats to alum Dylan Jacob Loraw (Finding Neverland), who joins fellow alum Jack Ryan Packer (Finding Neverland) in Dutch Apple's production of Elf! Buy tickets HERE.
Alum Catherine Ashmore Bradley (A Christmas Story) has been added to the livestream concert of Joshua Turchin's (A Christmas Story) musical The Perfect Fit! Get tickets HERE.
Tour alum Gaten Matarazzo (Les Miserables) designed a line of socks for the holidays with Happy Socks! Check them out HERE.
Watch alum Madeleine Guilbot (Les Miserables) singing during Rising Talent Magazine's virtual cabaret below!
And check out pictures from tour alumni Amaya Braganza (The King and I) and Jack Mullen (Beauty and the Beast), who both voted, below!