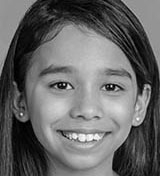 Arwen Monzon-Sanders (Frozen) stopped by Moonlit Wings' virtual summer camp to do a Q&A! Read some of her answers HERE.
Alum Tori Bates (Annie) is in a new commercial for Publix! Watch it below.
Watch alum Amaris Sanchez (On Your Feet) perform during Rising Talent Magazine's virtual concert last week in the video below!
And watch Natalie Adele Schroeder (Harry Potter and the Cursed Child) cover "Electric Love" below!