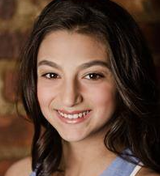 Tonight, tour alumni Gaten Matarazzo (Les Miserables), Analise Scarpaci (Matilda), and Joshua Robert Colley (Elf, Les Miserables) took part in "Harmonize Against Hunger," a benefit for Project Broadway and Feeding America! Watch the full concert below.
Alumni Jordan Cole (Les Miserables, Finding Neverland), Emma Grace Berardelli (White Christmas), Jacob Morrell (Kinky Boots), Lily Brooks O'Briant (Matilda), Austyn Johnson (Matilda), Natalie Adele Schroeder (Harry Potter and the Cursed Child), and Kaci Walfall (Matilda, The Lion King) will perform in a virtual edition of Peace, Love, and Cupcakes on July 11th and 12th with Kids of the Arts! Get more info HERE.
Check out the newest episode of alum Eli Tokash's (Finding Neverland, Mary Poppins, A Christmas Story) podcast "Take A Bow" below!