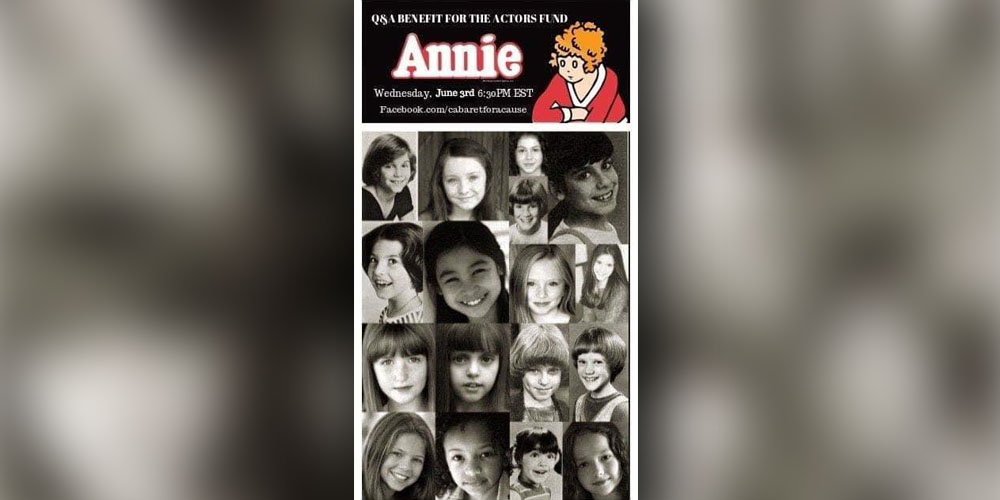 Cabaret for a Cause will host a Q&A with Annie alumni on June 3rd at 6:30pm EST on their Facebook page to benefit The Actors Fund! Panelists include Amaya Braganza (2012 Revival), Danielle Brisebois (Goodspeed and Original Broadway Production), Kristi Coombs (First and Second National Tours), Madi Rae DiPietro (2012 Revival), Skye Alyssa Friedman (2012 Revival), Heidi Gray (TROIKA National and International Tour), Mollie Hall Boulware (Third and Fourth National Tours), Georgi James (2012 Revival), Marisa Morell Kagan (Second National Tour), Tyrah Skye Odoms (2012 Revival), Taylor Richardson (2012 Revival, 2014 Film), Emily Rosenfeld (2012 Revival), Rosanne Sorrentino (Third National Tour, 1982 Film), Theda Stemler Blackwood (First and Third National Tours), Julie Stevens (Third National Tour and Original Broadway Production), Amanda Swickle (TROIKA National Tour), Jaidyn Young (2012 Revival), Junah Jang (2012 Revival) and Patricia Patts (Second National Tour).
Today, Andrew Barth Feldman presented "Virtual Celebration," with tour alumni Gaten Matarazzo (Les Miserables) and Presley Ryan (How the Grinch Stole Christmas), to benefit the newly re-named Barbra Barth Feldman Performing Arts Center in honor of Andrew's late mom.
This Wednesday, casting director Jen Rudin will offer another free session with parents and young actors! Sign up HERE!
On Friday, alum Lily Jane (How the Grinch Stole Christmas) went live on (YOUNG)'s Instagram account (@youngbroadwayseries)! You can check out all past (YOUNG) concerts on their IGTV page!
Patrick Scott McDermott (Les Miserables) has a brand new podcast called "Behind the Red Curtain"! You can listen now below.
Yesterday, tour alumni Jacob Morrell (Kinky Boots) and Erich Schuett (The Sound of Music) took part in "Sunshine Songs"! You can watch the full video below.
And check out these videos and picture from the kids of Frozen, The Lion King, and Waitress!