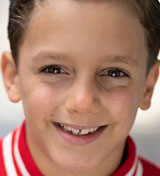 Happy Trails to Anthony Gianni Cipolla, who has played his final performance of A Bronx Tale! We can't wait to see what you do next.
Alum Hudson Loverro (Kinky Boots) will appear on "FBI: Most Wanted" on Tuesday, March 24th! Make sure to tune in.
What the Constitution Means to Me has cancelled the rest of its run in Chicago. Get more info about the Broadway in Chicago cancellations and postponements HERE.
Charlie Kahler (The Lion King) is featured in Delaware Online! Check out the article HERE.
Congrats to alum Bella Fraker (School of Rock), who recently booked a commercial!
Frozen will play Tempe, Arizona, during the ASU Gammage 2020-2021 season! Get more info HERE.
Check out a peek at the new West Side Story movie with tour alum Ben Cook (Billy Elliot, Newsies) HERE!
Watch alum Raymond Davis Jr.'s (Motown) music video for "Drip On Me" below!