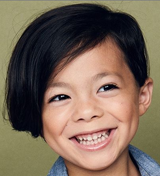 Happy Trails to Tyler Dunn, who just wrapped up his return to Miss Saigon! We can't wait to see what you do next!
Yesterday, KOT's founder Lindsay went to the Groundlings Theater to see alum Taylor Coleman (The Sound of Music) in an improv show! Check out a picture of them below!
You can see alum Kinley Donaldson (Waitress) in Annie Get Your Gun with Destrehan Theater at The Lofton Center in Louisiana this spring! Be on the lookout for ticket info soon.
Alum Ethan Stokes (Finding Neverland) will play Agwe in Once On This Island Jr. at Treehouse Theater! Get more info at TreehouseTheater.com!
Alum Gaten Matarazzo (Les Miserables) appears in the music video for Green Day's new song "Meet Me on the Roof"! Check it out below.
The Lion King and Waitress will play Fort Worth, Texas, as a part of the Broadway at the Bass 2020-2021 season! Get more info about the full season below.
Be on the lookout for Mariama Diop (Once On This Island) modeling for the Gap! Check out a picture of the ad below.
Check out alum Addie Manthey (Waitress) modeling for VTech below!