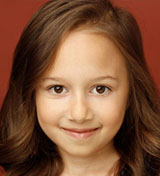 Congrats to alum Kevelin Jones (The Bodyguard), who is the newest member of Acapop! KIDS!
Alum Nia Holloway (The Lion King) is guest starring on "Hawaii Five O" tomorrow, November 15th, on CBS!
Catch alum Mystic Inscho (School of Rock) in "Splintered" on Crypt TV this Friday! And, watch a preview below!
>
Alum Sophia Massa (The Sound of Music) appears in a video for Nick Jr.! Watch it below!
And check out these pictures from the kids of Once on This Island, A Bronx Tale, and A Christmas Story!