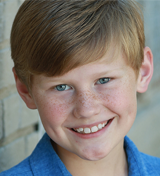 Lucy Capri (Waitress Tampa) has booked a co-starring role on the upcoming TV series "Queen America"! Check out pictures on set below!
Alum Jason Testa (The Addams Family) will appear in Calvin Berger in Hollywood August 10th-12th! Get more info below!
Christian Harmston (Love Never Dies) spoke with News & Record! Check out the article at Greensboro.com!
And check out these pictures and videos from the kids of On Your Feet, School of Rock, Kinky Boots, and Waitress!