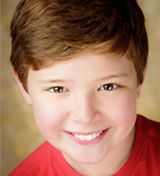 Jay Hendrix (A Christmas Story) is taking over the A Christmas Story Instagram (@achristmasstorytour) today!
Tomorrow, you can see kids from On Your Feet, School of Rock, and more take part in Broadway Star Project's "Holiday Playlist" concert in New York City! Get tickets HERE!
Sofia Lauren and Lily Jane (How the Grinch Stole Christmas) are taking over @RisingTalentMag today on Instagram!
"David Makes Man," with alum Nate McIntyre (The Lion King), has been renewed for a second season! Get more info HERE!
We are so excited that Rachel Ling Gordon (How the Grinch Stole Christmas) is taking over our Instagram account tomorrow in honor of her final day of performances! Make sure to tune in at @KidsOnTourOfficial.
Alum Audrey Bennett (The Sound of Music) stars in the new short film "Regulation," now playing on YouTube and on the streaming platform Dust! Watch it on YouTube below.
And check out these pictures from the kids of A Christmas Story, How the Grinch Stole Christmas, and Waitress!