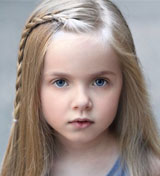 Happy Trails to Cate Elefante (Les Miserables)! We can't wait to see what you do next!
KOT's Lindsay is at the Hollywood Bowl to see alum Gaten Matarazzo (Les Miserables) play Jack in Into the Woods!
Check out a picture of Lindsay making "Tam faces" with Fin Moulding when she went to see Miss Saigon below!
Alum Erich Schuett (The Sound of Music) appears in a video for Seventeen! Watch below!
Check out alum Vienna Maas (Waitress Omaha) modeling for Oriental Trading below!
And check out these pictures and video from the kids of Anastasia, Les Miserables, Charlie and the Chocolate Factory, and The Lion King!