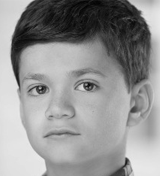 Happy Trails to Annabel Cole, Robbie Crandall, Jasper Davenport, and Mackenzie Mercer, who play their final performances of Les Miserables today!
Happy Trails to Mikee Castillo, who completes her limited run with The Lion King on tour today!
Alum Fin Moulding (Miss Saigon) appears in the newest episode of "Eric's World"! Check out the video below.
And check out these pictures and videos from the kids of Waitress and Les Miserables!