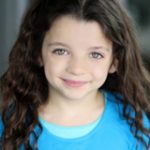 Congrats to Fiona Morgan Quinn (How the Grinch Stole Christmas), whose Hallmark film "Christmas on Honeysuckle Lane" premiered last weekend! Catch it playing on the Hallmark channel through the holiday season!
Alumni Sophie and Dalya Knapp (Les Miserables) have joined the "Roots of Steel" concert on December 27th at Carnegie Music Hall to benefit victims of the Tree of Life shooting. Get more info at RootsOfSteel.org!
See if you can listen for Natalia Bingham (School of Rock) and Cate Elefante's (Les Miserables) voices in a few episodes of "Sesame Street," airing now!
Check out an interview Kensley Dibble and Sloane Viora (Waitress San Diego) did with San Diego Magazine at SanDiegoMagazine.com!
Congrats to alum Jacob Morrell (Kinky Boots), who appeared in the PBS documentary "Hal Prince: The Director's Life" over the weekend! Check out a picture of Jacob with Hal Prince below!
And check out these pictures from the kids of School of Rock, Anastasia, Finding Neverland, Charlie and the Chocolate Factory, Elf, Miss Saigon, and On Your Feet!