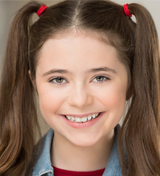 Congrats to Alyssa Emily Marvin (School of Rock), who recently appeared in "A Crime to Remember" on Investigation Discovery! Get more info and check out a picture below!
Break a leg to all those who attended the open call for The Lion King at the Apollo Theater today!
Check out these pictures from the kids of Love Never Dies, The King and I, School of Rock, and The Lion King!