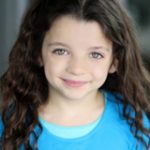 Happy Trails to Olivia Bucknor, Carson Hodges, Jack Suarez Kimmel, Vincent Molden, Gilberto Moretti-Hamilton, Iara Nemirovsky, and Huxley Westemeier who take their final bows in School of Rock today!
Happy Trails to Dalya Knapp and Sophie Knapp, who play their final performances of Les Miserables today! And congrats to Cate Elefante (Waitress Broadway) and Madeleine Guilbot (The Sound of Music), who have officially made their Les Miserables debuts!
And check out these pictures from the kids of Les Miserables, School of Rock, Kinky Boots, Waitress, and Love Never Dies!